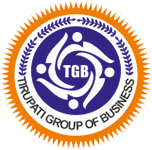 Established in 2001, the Tirupati Group of Business, "TGB" aims of bringing a revolution and a new beginning in the field of education. Mr. Dharmesh Patel and Mr. Girish Patel founded TGB to provide quality education, and to foster an all-round growth of a child. The TGB is a group of several Trust serving in field of education, health care, welfare society, charity, etc. The values, which are ingrained in TGB help to promote confidence, direction, and critical thinking skills, leading to the development of well-adjusted, adaptable and integrated personalities. In the field of education TGB grooms the youngest citizens from crayon to cap i.e., from KG to PG.
The Tirupati Foundation Trust "TFT" started its journey in the year 2004 under TGB. TFT manages number of play centers, CBSE and GSEB schools across Gujarat. TFT also run Nursing college and ITI college at Vadodara, Graduate and Post Graduate college in various fields like Engineering, Pharmacy Management, Education, Science & Commerce at Vidyanagar. TFT have a chain in a name of My Shannen Pre-School across gujarat and school under the brand name "My Shannen School" having branches at New VIP Road Vadodara, Bodeli and Rajpipla and "Sharda Mandir English Medium School" at Salatwada, Vadodara. GREMS is one more beautiful feathers in the crown of TFT. To sum up, the mission of TGB is "to open doors and open minds" and prepare the ground for the future of the nation.
Tirupati Group of Business is highly respected name as fully integrated Indian contract company located in the admist of the green feild of Vadodara and are leading national providers in educations, social and cultural owing to persistent value of customers and students satisfaction unsurpassed quality standards, human safety, innovations, etc. Employing a team of more than 500 highly qualifies and experienced personnel. Tirupati Group of business has its own approach center accompanied by pilot facility to serve pre-formulations, formulation, analytical development, stability and skill of service for all the segments.
With this objective of young dynamics and a visionary perspective, the company has been inexorably widening their spectrum of clientele continuously.
"Since its inception, Tirupati Group of Business has achieved its aspiration to serve as a one-stop solution for all educational requirements"
Tirupati group of business has formed many NGO to undertake all such activities that would promote charges and transformation in the society in the area related to health, Environment, Education, Culture and social economic reforms for sustainable uncountable development.